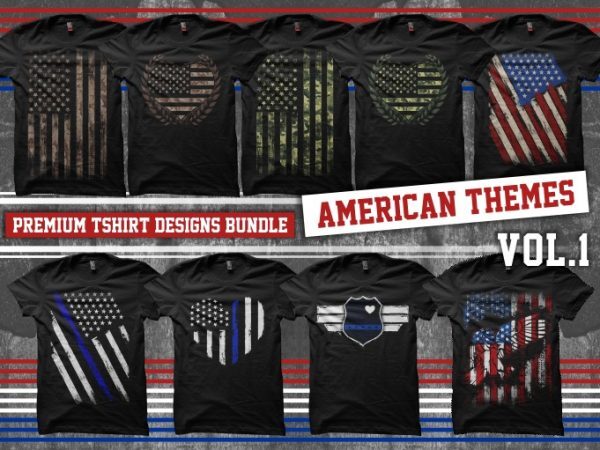 Bundle Premium T-Shirt Designs – American Themes – Volume 1
Buy and download this bundle on Buytshirtdesigns.com
Bundle Premium T-Shirt Designs - American Themes - Volume 1Special T-Shirt American Themes Volume 1,With Special Price !!! Grab It Fast !!!1. Camo Desert - US Flag With Camouflage2. Camo Flag Heart Desert - American Themes Illustration3. Camo USA Flag - American Themes Illustration4. Camo Flag Heart Green - American Themes Illustration5. My Flag - American Themes Illustration6. Thin Blue Line Flag - American Themes Illustration7. Love Thin Blue Line - American Themes Illustration8. Captain The Blue Officer - American Themes Illustration9. The Eagle Flag - Illustration American ThemesYou Can Use  These Files In Print On T-Shirts, Hoodie, Mugs, Posters, Stickers, Pillows Or Other Media.Design Template Based On Vector FilesAvailable At : CDR, PDF, EPS, PNG Transparent, also with PSD separated Layers File.
Instant Digital Download:
Buy this item with your phone or tablet, and access to the files at any time from your computer.